Singapore office
190 Middle Road
#13-02 Fortune Centre
(Office Tower)
Singapore 188979
Tel: +65 6674 6674
+65 6348 6613
Fax: +65 6734 0527
Malaysia office
Suite 13-10, Level 13,
Johor Bahru City Square
(Office Tower), 106-108,
Jalan Wong Ah Fook, 80000
Johor Bahru, Johor, Malaysia. Tel: +607 225 4911
Fax: +607 225 4903
www.facebook.com/ycsmanagement
Latest News
offices will be closed for Company Trip from 03 November (Thursday) to 07 November 2016 (Monday)
Date: 31.10.2016 15:40:19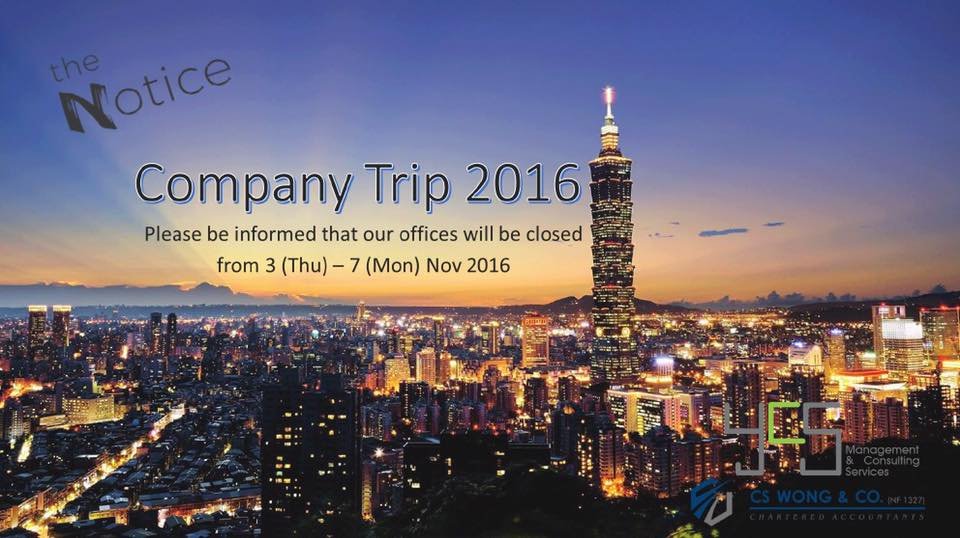 Please be informed that our offices will be closed for Company Trip from 03 November (Thursday) to 07 November 2016 (Monday). Business will resume as usual on 08 November 2016 (Tuesday). Thank you for your kind attention.
NOTICE OF OFFICE RELOCATION (SINGAPORE OFFICE)
Date: 22.05.2015 11:42:41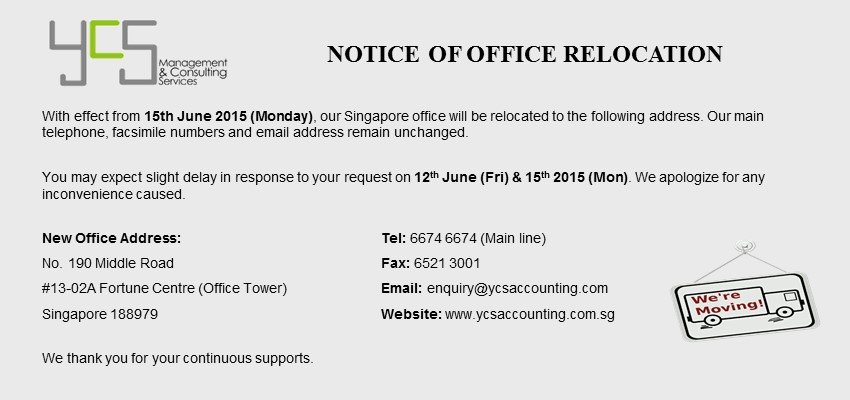 Job Vacancy
Date: 17.10.2014 16:45:43
In line with our expansion and quest for quality excellence, we are seeking dynamic individuals to join our team.
Position:
Corporate Secretary (Malaysia) x 1 [Full time / Part time]
Accounts Associate (Malaysia) x 2
Accounts Associate (Singapore) x 1




Requirements:
Diploma/ LCCI/ CAT/ SPM/ UEC
2 Years relevant experience
Able to work independently and as a team
Proficient in MS Excel and MS Word and accounting/secretary software
Required languages: English and Chinese
Fresh graduates are encouraged to apply
Job scope:
Responsible to handle full & partial set of accounts/corporate secretarial matters for corporate clients
Ensure timely completion of monthly, quarterly or annual reports
Liaise with corporate clients and auditor
Perform other ad-hoc duties that may be assigned from time to time
Benefits:
5-days week
Annual/Medical Leave
Medical
CPF/EPF Contribution
Annual increment & bonus will be rewarded based on performance
Annual company trip
A good employment environment & benefit and good career growth awaits the successful candidate!
Interested candidates are invited to submit their resume with expected salary and date of availability to enquiry@ycsaccounting.com
Only shortlisted candidates will be notified. Thank you for applying.
New Office Announcement
Date: 01.07.2013 15:31:39
YCS Management & Consulting Services is growing again! We are proud to announce that we have moved into our new office on 1 July 2013.
The new office will provide more space to cater for the growing needs of our company.
Our new address is:
46 East Coast Road
#10-01 EastGate
Singapore 428766
Our telephone and fax number remain unchanged.
It will be our pleasure to serve you at our new location with the same quality and service you have come to expect of us.